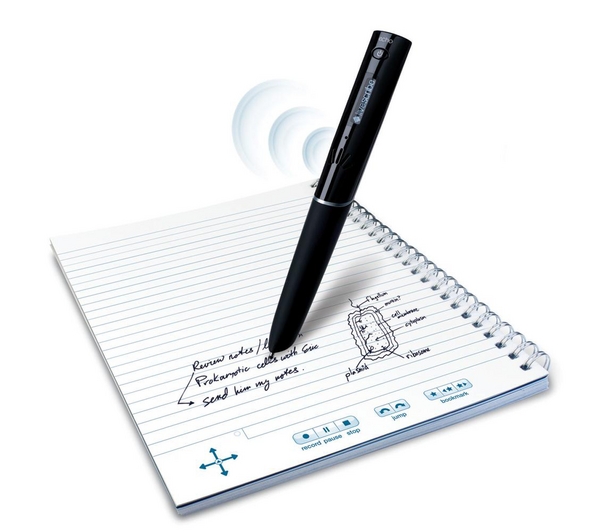 In the second part of our article, we take a look at the Livescribe Echo 8 GB smartpen which not only makes you look sleek no matter where you are but is a great example of technology meets style. Where else can you find a pen that actually records everything you speak and write yet still looks so stylish in your pocket or even on your folder?
Meet the Livescribe Echo 8, which takes the ordinary handheld pen to a different level altogether. Imagine this. With this new smart piece in your hand, you can:
Transfer any notes or audio files to another device within seconds. All thanks to the small neat micro USB connector slot embedded in the base which can also charge your pen when you're not using it.
It has a microphone in it which makes mono recording a real pleasure. Just the 

thing for one on one meetings, lectures, conferences or even interviews.

And no, you don't have to worry about whether you'll get a crystal clear recording 

or a fuzzy one because the built in speakers take care of the sound quality for you.

It has a standard 3.5mm jack which lets you listen to your own recording using a 

pair of headphones.

An 8 GB pen can easily hold up to 800 hours of recorded audio. If you don't want to 

invest in the 8 GB version, you could always opt for the 4 GB version as well.

The ink cartridge is replaceable just like in an ordinary pen so you won't have to throw away the entire pen just because of a used up cartridge.
The presence of an infrared camera at the tip of the pen actually does a fantastic job of taking upto 70 images per second of any movement you make on paper. The pen also gives the user a firm grip thanks to the soft rubber and is light to hold as well. Overall, the pen is quite comfortable to use and definitely eliminates the need to carry external recording equipment or devices. It makes sharing and uploading docs that much easier and can also support Google Docs. However, at a minimum cost of GBP 180, it still is quite an investment to make. Plus, you would have to use the pen for some time to get used to the way it works. But overall, it's still worth the investment made.