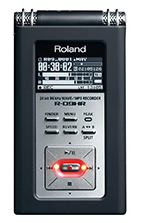 In this article, we take a look at the Edirol R – 09HR audio recorder which has been built for the customer who isn't into heavy duty gizmos but who would still prefer to rely on a recorder that covers all the basic functions and won't let you down. It may be old-fashioned in a way, if you compare it to so many other recorders that combine multiple functions in one, but it does the job quite decently.
For starters, yes, it does look like the shaver you were going to gift dad for Christmas, but the Edirol R- 09HR fits snugly in your palm and thanks to the rubber casing, it gives the user a firm grip. So, you're less likely to drop it even if you have sweaty palms! The little buttons in the control panel may be a tad difficult to work with at first, but their layout makes it very easy to use as well.
If you take a look at the other accessories that this recorder comes with, you'll find that this is one of the very few brands to include a wireless remote control and even a stand. The presence of the remote indicates that you don't have to be sitting right next to the speaker in order to hear what is being said, or to control the unit by yourself. You now have the option to walk around in a room and use the wireless remote for any main operation which also includes controlling the volume, rewinding, playing and even stopping. Users will also find that this machine can last for at least 5 hours even when something is being recorded. Unlike other brands, the battery slot and the USB port are easy to find and use as well.
The stereo mic in the Edirol R- 09HR is seriously good and users will also appreciate the fact that there are quite a few recording resolutions available to suit any type of recording as well as a larger memory capacity. Retailing at a minimum of 250 GBP, the Edirol R- 09HR wins a thumbs-up from us because of its overall performance and features.