We love beginning our day with a cup of coffee and our favorite newspaper in hand, but getting the latest news to readers every day is another story altogether. Being a part of the media and living the life of a journalist is more than fun, but how do you keep track of all the interviews you conduct on a daily basis? Isn't it a tedious process to keep aside half an hour of your precious time just to find that 'one' tape your boss wants for the scheduled board meeting? What if you could come home to a much better organized work-table instead of finding piles of papers and more discs instead?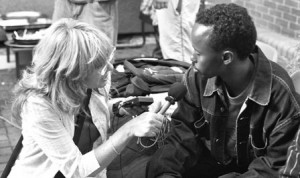 That's what we're here for! If you haven't been introduced to the wonders of Interview transcription, then we're here to let you know that you are just one click away from getting organized like never before. Transcription simply means creating transcripts or verbatim copy of any audio files that you have created and interview transcription simply refers to transcripts of interviews. We understand that one of the last things you would want to do after a busy day is to sit down and transcribe an audio file by yourself. Considering that you may have time constraints and still need the information at hand as fast as possible, the tendency to make errors only increases. Add to that other factors such as fatigue or deadlines to meet and the perfect transcript is anywhere but here!
Our transcribers can make your job two steps easier by not only creating transcripts for you but also create indexes of all the important topics discussed in the interview. We'll also mark the approximate pages in which these highlighted topics appear so that if you want to skip to any crucial part of the interview, you won't have to sit down and read through the whole transcript at all. Getting all your interviews transcribed is a fantastic way to create a back-up and of course, save you time in scanning the audio tape yourself.
So give EQ Transcription Services Ltd a call today or just visit our website- we've got the solutions you need.