No organization or enterprise anywhere in the world can function on a daily basis without the reassuring power of finance to back it up. When you deal with vast amounts of financial data on a daily or weekly basis, wouldn't it be an added comfort to have all such data transcribed for you? That's where Financial Transcription comes in!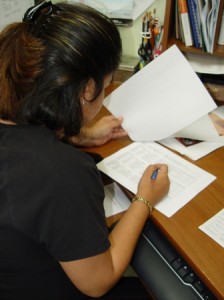 The simple definition of this term would be 'creating quality transcripts dealing with financial data from a number of audio recordings or files.' In short, financial transcription does not simply deal with transcribing each recorded word. On the other hand, transcriptionists can actually create a range of documents for you such as analysis reports and company reports based on the data submitted.
This kind of transcription is highly beneficial for those who are in the trading or finance sector although it also benefits firms in other non-related sectors for various reasons. Clients such as merchant banks, regulatory bodies, trading firms, investment agencies, mutual funds firms, advisory bodies, investment counselors, finance advisers, schools and even finance related websites stand to gain the most from financial transcription. Likewise, corporate organizations and other firms can use such financial transcripts to discuss the actual financial health of the firm at business meetings, seminars, annual meets and so on. In fact, transcribing financial data for a minimum of 3 years allows you to compare and analyse much better than if you had the data for just one year.
Creating a good quality and error free financial transcript requires plenty of knowledge about financial terms, the ability to deal with large amounts of data and to make sense of it as well as sharp presence of mind. After all, switching one or two digits here and there could result in an entirely different interpretation!
With EQ Transcription Services however, you won't have to worry about whether the analysis of the finance transcript you are given is accurate or if you need to scrutinize the data again for anomalies. We've got years of experience in the field of transcription itself and we'll ensure that only our best number crunching enthusiasts are put to work on your files. And yes, it goes without saying that we do not leak out any of your confidential data in any manner or sell any details to third parties. So why wait to get your data audio files transcribed? We're just an email away!