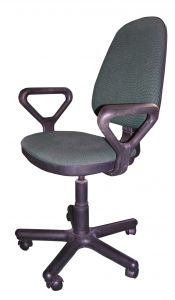 When you're working long hours as a transcriptionist, it's important to pay attention to the accessories you invest in. So now that you've taken the time to do a bit of homework on the best foot pedal to buy, a keyboard which tilts backward, a branded set of headphones and of course; a PC that you've been using for years; what about the chair you'll be sitting for hours on? If you're planning to work as a transcriptionist from home, don't overlook the importance of a good comfortable chair.
But wait, you're bound to ask- Why invest in a pricey chair when you can be just as comfortable working and relaxing on your bed? Here's an important tip to remember- your body needs to be happy before you can go the extra mile to keep your clients happy.
Transcription involves long hours of listening to audio files as well as typing at the same time. By buying the right chair, you'll not find it easier to concentrate on the task at hand but you'll also make fewer mistakes, improve overall efficiency and reduce your chances of spraining your back or developing a bad posture. While it's always good to read reviews about the right transcriptionist chair, don't say no to walking into a furniture shop (or a minimum of two such stores) and trying out their chairs for yourself.
The right chair is like a shoe- what suits one, may not necessarily suit you. Make sure you sit with your back straight against the spine of the chair and check your comfort level by adopting different seated postures. The minute you feel any unnecessary strain or pull on your lower back, it's a sign that you're either not sitting correctly or you need to choose a different chair.Whether you opt for a padded chair or one with an adjustable back is up to you but pay attention to the arms of the chair. Some transcriptionists may find armed chairs to be a blessing, but if the arms of the chair are not adjusted to suit your natural height, then there's a good chance that you are at risk of developing further shoulder and neck problems. There are many furniture stores which offer a desk cum chair set which is quite a good purchase to consider as well especially since it will give you a better idea about the ideal chair to desk height placement for you.
Whenever in doubt, don't hesitate to take the advice of your colleagues or mentors. A good investment made before you begin your new career, will help you perform at your best.